The moment we have all been waiting for has finally arrived… GILMORE GIRLS IS ON NETFLIX!!!!!!!
I don't know if you can tell, but I'm pretty excited. And yes I do own all 7 seasons, but I have been letting a friend borrow and watch them which means I haven't been able to watch my Gilmore for a quite some time, so this is very exciting indeed! To celebrate, my friend Allison and I have a very Gilmore day planned (even though we don't live in the same city). We will be drinking tons and tons of coffee, we will read while sitting in a coffee shop/diner/bakery of some sort, and of course we will watch some of our favorite episodes. Probably ones featuring Jess because everyone knows that he is the best.
I've gone through all the seasons and picked my favorite episode from each. It was so hard choosing- there are so many good ones in every season!
Season 1: "Kiss and Tell" – Rory and Dean kiss for the first time and it is so hilarious and innocent and she is SO polite. And then Lorelai invites Dean over for a movie night, which Rory is not super happy about. But it all ends up working out, and there is lots and lots of junk food.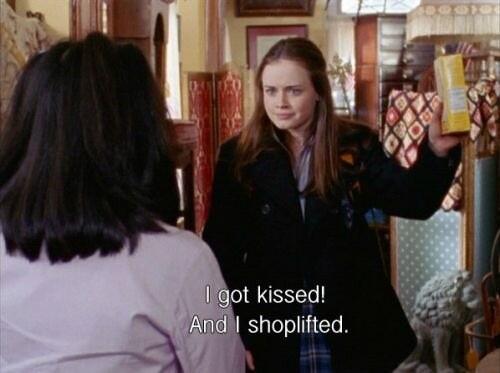 Season 2: "The Bracebridge Dinner"– A cancelled event at the Inn makes for the ultimate sleepover with everyone that the Gilmore girls like! There is dinner and a show, a ride in a horse-drawn carriage, we learn the secret of parenting (thanks for that, Luke), and there is the best look between Rory and Jess. Ugh. Jess. Oh and a snowman that looks like Bjork!
Season 3: "They Shoot Gilmores, Don't They?"– The dance marathon. The break-up. The Jess. The Dean. The drama. Kirk doing a victory lap to the Rocky theme music. What more could you ask for?!?!
Season 4: "Last Week Fights, This Week Tights"– This is where Luke and Lorelai really being, and we learn that Luke can waltz! Oh and Jess is back in town for his mother's wedding, so obviously he is going to go after Rory. But who is already there when he shows up? Dean? What!?!? Drama!
Season 5: "You Jump, I Jump, Jack"– I don't think it's a surprise that this one made the list. Luke plays golf with Richard which is hilarious and Rory goes on an adventure with the Life and Death Brigade. Oh and every girl falls a little bit in love with Logan. For real.
Season 6: "Let Me Hear Your Balalaikas Ringing Out"– Jess is back!!! And he brought the drama with him! He also brought the book that he wrote! And he also brought some truth for Rory- like what are you doing with your life? Why are you living with your grandparents? Why are you dating this guy?
Season 7: "The Long Morrow"– Season 7 definitely wasn't a favorite for a lot of people. The writers changed and you can tell that the vibe of the show changed ever so slightly. But that doesn't mean that I still didn't enjoy watching, and I think that the first episode of the season was pretty hilarious. Logan has left for London. Rory gets a rocket. Lorelai deals with breaking up with Luke, again. Oh and Lane comes back from her honeymoon!
So there is my list! There are so many other favorite episodes, but these are the ones I'll go with for the time being. But oooh there are so many other great moments coming to mind! Like when Rory asked if she was 'stop eating the paste special?' or when Luke built an ice skating rink for Lorelai, or basically anything that Dave said (remember when Adam Brody had a small role and he was perfect and amazing?!?), or when Luke pushed Jess into the lake! I think I know which episode I'll be watching today…. I think…. Maybe… You better believe it will feature Jess, though. What is your favorite Gilmore Girls episode/moment?